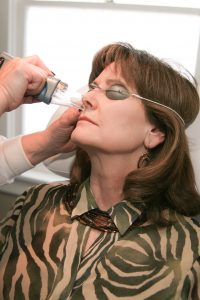 Cynosure Affirm Multiplex Anti-Aging Workstation:
The Cynosure Affirm laser treatment is indicated for wrinkle reduction, treatment of scars (acne, surgical and trauma), pigmentation, stretch marks as well as tissue tightening. The Affirm is a microthermal rejuvenation system with the patented Combined Apex Pulse(CAP). CAP allows stimulation of new collagen as well as collagen remodeling.
The Cynosure Affirm is a multiplex treatment with a combined heat energy of both the 1320nm as well as 1440nm. This is a non-ablative fractionated laser technology that causes bulk heating to stimulate injury to a part of the skin, while leaving some the surrounding skin intact to allow for healing. What this means to you is: good results with less downtime! The non-ablative laser treatment does require a series of treatments, usually 4-6 treatments at a 4-6 week interval. It's not as aggressive as a fractionated CO2 laser treatment but that also allows less downtime and less risk of complications.
At your consultation:
Your RN will review your skin improvement goals and compare them to the indications for the Affirm laser, making sure this is the desired treatment option for you. There are many options in skin rejuvenation and we would love to inform you of many different options to be sure we are able to meet your goals. We take "before" photos. Once your appointment is set, you're given a small amount of topical anesthetic to take home. Apply the anesthetic to the treatment area about 30 minutes before treatment.
At your appointment:
To remove lotions and topicals, the skin is cleaned and scrubbed prior to treatment. The area is aggressively cooled (to protect the skin) before, during and after each pass of the laser skin rejuvenation treatment. After treatment, topical products to cool the skin are applied, as well as sunscreen before you leave the office.
What will I look like after the treatment?
After treatment, you skin will most likely be red and warm and tingly. The redness will be in a circular pattern with some welting as well. This red and welted pattern will usually continue for 24-48 hours. If the treatment area remains warm and red, reapply a topical cooling product such as aloe vera gel.
What are the post treatment instructions?
no rubbing or scratching the treatment area
no swimming or using hot tubs while redness is present for at least 24-48 hours
apply moisturizer twice a day while redness is present
if crusting occurs, do not shave or pick at area. Apply aloe as needed to keep moist, let the crusting fall off on its own.
discomfort may be relieved by Tylenol or ice packs
avoid sun exposure, when treatment area is exposed to the sun use a sun block of SPF of 30 or more
How many treatments will I need?
We recommend a series of 4-6 treatments at a 4-6 week interval
What are the contraindications to having the Affirm MPX laser treatment:
history of skin cancer or exhibit suspicious lesions
pregnancy
seizure disorder triggered by light
Retin A capsules in the last 6 months
anticoagulants
medications that increase sensitivity to light (antibiotics)
have received gold therapy
Cost for treatment
Collagen Stimulation with the Cynosure Affirm Laser

1 treatment – Face and Neck

$300

Package of 3 treatments – Face and Neck

$825

Package of 6 treatments – Face and Neck

$1,500

Call or email for other area pricing.