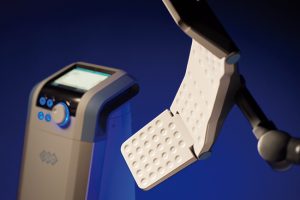 A multi-polar radio frequency device to PERMANENTLY destroy fat cells.
Works on ANY body size and is FDA approved for non-surgical circumferential reduction of the abdomen.
Who is a good candidate for Vanquish?
Any body size, except severely obese
Women or men with increased fat around the abdomen and love handle area
Any area of extra fat, such as thighs, arms, inner knees and bra fat
Best candidates are those who eat a healthy diet and have a stable weight
Who should NOT use Vanquish?
Severely obese clients
Clients with a lot of skin laxity
Clients with metal implants in the treatment area
What does the treatment feel like?
Most people describe the treatment area as warm, a little warmer than a heating pad
In the first 10-15 minutes of the procedure, your nurse will be sure to adjust settings, distance and get you comfortable. Once adjusted, you just relax. Treatment takes about 45 minutes.
After the fat cells are destroyed with the heat, we use a focused ultrasound (Z-Wave) to "bust up" the fat cells. The Z-wave treatment is not painful either. We use some ultrasound gel to glide the vibrating handpiece.
Common treatment areas include:
Abdomen and flanks (love handles)
Low back and flanks
Upper bra fat area
Thighs (upper and lower)
How many treatments do I need?
Best results are seen in 6 treatments, one week apart. Some are pleased after 4 treatments, the package discount savings can be applied to additional treatment areas.
What to expect:
Pictures will be taken and measurements done. We prefer you wear a tight pair of jeans or article of clothing that feels tight in your desired treatment area. We ask you to wear this same piece of clothing at your 6th appointment so you can see and feel the difference.
Weight will be taken at first appointment and documented at each appointment.
For the actual treatment you can wear comfortable clothing that allows the treatment area to be exposed. We have towels and drapes so don't stress about this detail.
RF energy and settings will be monitored and adjusted by your RN during your treatment. Most of the time, once set and adjusted appropriately, you can just relax and no further adjustment is needed.
Right after your treatment, the Z-wave is used to bust up the clumps of destroyed fat cells.
We ask that you will commit to help us achieve our best results.
You need to be well hydrated and eat a healthy balanced diet. We would like to see you loose ONE pound per week. Results can be lessened if you gain weight during or after the treatment series.
Benefits of choosing Vanquish over other choices for Non-Invasive Body Shaping:
Largest treatment area in the industry
No anesthesia or pain meds needed
No downtime
RF also does skin tightening
RF is strongly attracted to fat cells, obviously our target for cell death
Results are permanent. Fat cells are permanently destroyed
The only FDA approved device for any body mass index (BMI) all others require a BMI or less than 30.
No surgery needed, less money, no downtime, no scars or risk of complications
| VanquishMe | Cost for Treatment |
| --- | --- |
| Includes: Z-Wave post treatment to help break up the fat cells and B12 LipoLean injections to assist the body with fat metabolism. | |