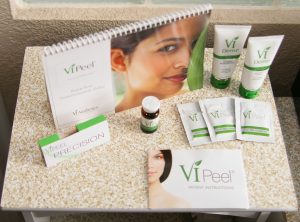 What is a Chemical Peel?
Chemical peels are composed of chemical solutions that are designed to remove the top-most outer layers of the skin (stratum corneum) so that new, regenerated skin replaces the old.
Peels can improve uneven skin tones related to age spots, acne scarring, excessive oil and breakouts, enlarged pores, fine lines and wrinkles, poor circulation and skin laxity (loose skin).
Chemical peels are classified as light to deep. The depth and strength of the peel depends on the type of acid as well as the pH balance. The deeper the peel, the more profound the results and the longer the recovery time.
VI Chemical Peel
The VI Peel is ideal for:
treating hyperpigmentation and melasma
reversing sun damage and signs of aging
improving skin tone and texture
clearing Acne & reducing Acne scars
stimulating collagen growth and elastin production, for younger looking skin
reducing the appearance of pores
Benefits
There are many benefits, including:
The VI Peel is safe for all skin types and ethnicities;
It is the only peel safe to use on the eye area, neck, chest and hands;
No skin preconditioning is necessary. See pre- and post-peel skin care, below;
It is virtually discomfort free. Clients typically experience a warm, tingly sensation that quickly subsides;
There is little or no downtime. The actually peeling process lasts 2 to 3 days, and is easily managed with the post-peel kit that is included with the peel;
You'll see beautiful results in just one week.
Ingredients
The VI Peel consists of a synergistic blend of five acids that no other peel offers:
TCA – Trichloroacetic Acid for penetration, deep scar healing; stimulates collagen growth;
Retin-A – an acid derived from vitamin A to combat wrinkles;
Salicylic Acid – this beta hydroxy acid (BHA) is an exfoliant;
Phenol – has antiseptic and anesthetic properties; aids in skin penetration;
Vitamin C – ascorbic acid has antioxidant and mild exfoliation properties
VI Peels are not recommended for:
Those with allergies to any of the ingredients above
women who are pregnant or nursing
The best results are achieved by having a consultation with a skin care professional to discuss the peel pre- and post-peel home care to acheive the best results from the VI Peel and to maintain those benefits.
Avoid all peels and exfoliating treatments, including laser, for two weeks prior to your VI Peel.
Exfoliating products (glycolic acid, vitamin C, retin-A, etc.) should be discontinued for a week before your VI Peel. Likewise, do not use any abrasive products on your face [and/or chest or hands] that would cause mechanical exfoliation. Men should not shave the day of the VI Peel.
Post-Peel Skin Care
The VI Peel has just given you the equivalent of multiple peels. So, for a week or two following the peel it's best to avoid exfoliating products like glycolic acid and retinols. Avoid direct and prolonged exposure to the sun, and we recommend you use a sunscreen at all times. Do not exercise for the duration of the peel because your skin is sensitized and perspiration will irritate your skin.
Resist the temptation of pulling your peeling skin off — it's important that you let it peel naturally, or scarring and skin discoloration may occur. Manage your appearance instead with the included post-peel kit.
| Procedure | Cost per Treatment | Treatment for: |
| --- | --- | --- |
| | | |
| | | |
| | | For Pigment and Aging Skin |
| | | |
| | | |
| | | |
| | | |