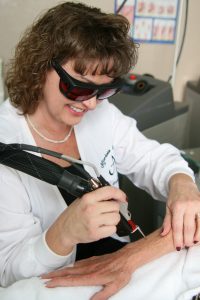 Permanent hair reduction can be done at LaserRN by two different methods:
If your hair is DARK, it can be lasered. The laser is attracted to the dark pigment in the hair, therefore the darker the hair the better results we see!
If your hair is RED, BLONDE or GRAY the only permanent option of hair removal is electrolysis. Electrolysis is a hair by hair procedure that than kill any hair color, but since the laser does such a great job on the darker hairs, we often save this method of hair removal for just the non-dark hair colors.
Unsure which option is the best for you? Our Registered Nurses will help you make the best choice for your needs. Call or go online to make an appointment.